FOTOCOPY Season III
hits Venice, Italy 
June 28 through the Summer 
EXHIBITION REVIEW:
Non-Stick Nostalgia in the New York Times
Solo Curatorial debut: 
NON-STICK NOSTALGIA/
Y2K RETROFUTURISM IN CONTEMPORARY JEWELRY
at the Museum of Arts and Design, New York City
And Symposium: 
co-moderated with Cindy Hernandez
EXHIBITION ANNOUNCMENT 
FOTOCOPY
co-curated with Ashley K. Wahba
x New York Jewelry Week 2018 

EXHIBITION ANNOUNCMENT 
FOTOCOPY
co-curated with Adam Grinovich
x Munich Jewelry Week 2018 
EXHIBITION ANNOUNCMENT 
CO CURATOR OF CULT EXHIBITION 
STEDELIJK MUSEUM 'S-HERTOGENBOSCH, NL
MAGAZINE RELEASE
EDITOR OF CURRENT OBSESSION MAGAZINE ISSUE NO. 5 VERNACULAR 
INTERVIEW RELEASE
W/ SWEDISH JEWELER GÖRAN KLING
FOR CURRENT OBSESSION MAG NO. 5 VERNACULAR 
SPEAKER AT 48TH SCHMUCKSYMPOSIUM ZIMMERHOLF, HD TREASURE
BAD RAPPENAU, GERMANY -  MAY 2O16
PAPER RELEASE
EDITOR OF THE 2016 CO PAPER
COINCIDING WITH MUNICH JEWELLERY WEEK 2016
VIDEO RELEASE
 feature by the Florentine, Florence, Italy
MAGAZINE RELEASE 
Editor of Current Obsession Issue #4 
Supernatural
, including two written articles:
Ooga Boog Land / Los Angeles
&
Distance from the Stars/
Interview with Warwick Freeman
BOOK RELEASE
Published by Art Jewelry Forum, this new book features two of my texts on exhibition strategies in Contemporary Jewelry; one is an extensive interview with artist Ruudt Peters, the other a republish of my article,
What is it you do exactly?
Get it here 
PAPER RELEASE  
Two writing features in Current Obession's PAPER 2014 that debuted in March to coincide with Munich Jewellery Week.  Pictured is a feature about painter Kelsey Isaacs on crystal energy and jewelry, the other an interview with artist, Hanna Hedman.
Get it here !
EXHIBTION 
RISD in Rome
in Providence, Rhode Island was a retrospective of work made by past European Honors Program alumni and chief critics. My original sketchbook from the program as a student was on display, as well as technical drawings and watercolors from my 2010
Chiese di Roma
project, shown alongside a ring I realized from my designs with the help of master Padovan Goldsmith, Giampaolo Babetto
EXHIBITION
With Nevin Arig and Eugenia Ingegno presented by Beyond Fashion, Antwerp Belgium

MAGAZINE RELEASE 
BLING IS OK!
Article featured in Issue #3 FAKE of Current Obsession Magazine 
EXHIBITION

 at the Romanian Academy, Rome, alongside Romanian academy artists and artists from The British School, Rome.
PAPER RELEASE 
Article published in 2014 Current Obsession Paper : 
Free Reign / artist-run exhibitions in Munich 
The Jewellery Nobel Prize 2013 
Sanna Svedestedt and Karin Roy Andersson of the jewelry blog Diagonal named me one of five 2013 nobel prize winners in jewelry. The Nobel Jewellery Prize 2013 was published in the Baltic Jewellery News, March issue !

click here for more: http://klimt02.net/blogs/blog.php?Id=10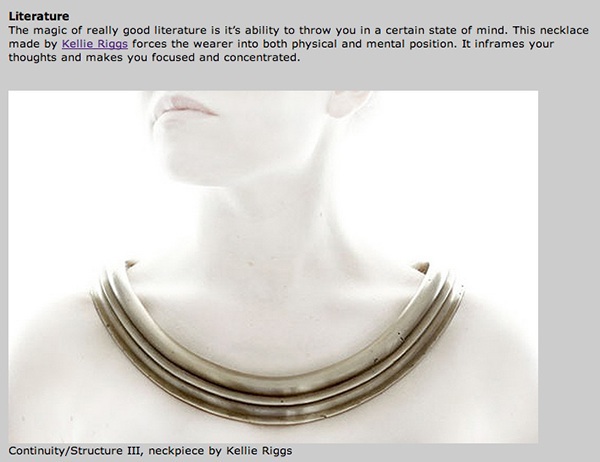 EXHIBITION
Gallery Putti, Riga, Latvia
EXHIBITION
Gallery FOUR, Gothenburg, Sweden  
In conjunction with the Göteborg International Biennial for Contemporary Art, GIBCA
EXHIBITION
Styles and Techniques: An Enquiry into the Past
Exhibition with Etruscan goldsmith Ulderico G. Pettorossi in Rome at Palazzo Cenci in association with the Rhode Island School of Design
PRESS
SAN LUIGI LINE FEATURED IN NEW LOOKBOOK ON
CRAFT&CULTURE
.
Work is also now available for purchase with C&C ---->
here
MAGAZINE RELEASE
CURRENT OBSESSION ISSUE #1 PUBLISHED AND DEBUTED AT SCHMUCK 2013, INCLUDING TWO OF MY INTERVIEWS CONDUCTED WITH KARL FRITSCH AND ALEXANDER BLANK. SCHMUCK GUIDE ALSO RELEASED, CONTENT ALSO BY KELLIE RIGGS
FOR MORE INFO, CLICK ------> HERE
PRESS
INTERACTIVE RING featured in this Larks Book publication juried by Bruce Metcalf, May 2012
PRESS
Work featured in Blue Canvas Magazine, Issue #11 among other work from RISD, Spring 2011